fathertyme
Site Admin



Joined: 30 Jun 2001
Age: 47
Posts: 8485
Location: The American Colonies
| | |
| --- | --- |
| Posted: Wed May 24, 2006 7:55 am Post subject: MundayWeb stats down (for good?) | |
---
From the Mundayweb forums...


Quote:

Hi all.

Despite the server move, my web host has informed me tonight that boinc.mundayweb.com cannot continue for the time being due to the load put on their web server.

Therefore, at the moment, I have suspended graphics generation and stats updates until the time that a new home is found. If anyone knows of cheap dedicated web server space or would kindly like to donate some space, please let me know.

Apologies to all, but I have tried my best to keep the site going til now.

Sad

Neil.


For more detail, read the Forum thread on Mundayweb.

_________________
LWD web-cams: http://lwdcam.codecoma.com/?lwdcam

---
[9:08pm][09/16/2005]«+ flip » college...what is that
[9:08pm][09/16/2005]«+ Aff » apparently a place where you find rum
---
English doesn't just borrow from other languages, it follows them down dark alleys, smashes them over the head and roots around in their pockets for loose vocabulary.
skildude
Moderator



Joined: 02 Feb 2003
Posts: 8018
Location: Texas: Land o' Religions
| | |
| --- | --- |
| Posted: Sat Jun 03, 2006 6:16 pm Post subject: | |
---
guess what.... look down

_________________
~~~~~~~~~~~~~~~~~~~~~~~~~~~~~~~~~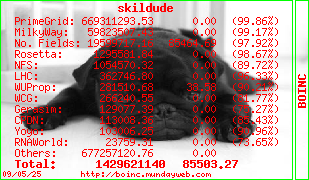 I decided to say something witty but am at a loss for words...

My clouds silver lining has been tarnished black . It still follows me around but makes outcomes a whole lot more grim.